Cami Nogueira
Growing up in Patagonia, Cami Nogueira started riding at a young age racing Cross Country. She quickly fell in love with downhill racing and was inspired to try freeriding when the New World Disorder crew came to film in her hometown. Cami blew up on the scene when she was invited to Formation 2021, going on to win the first ever Proving Grounds women's category. She's known for sending massive technical features and her fiery tenacity to nail the lines she envisions.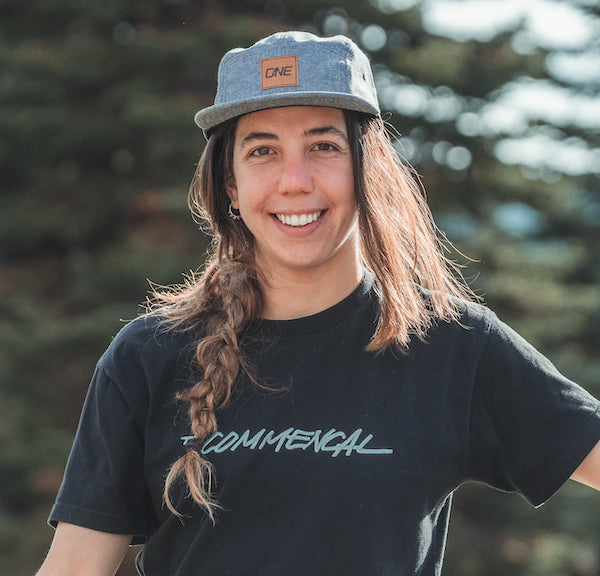 Discipline:
Freeride

Height & Weight:
5'6"

Preferred Wheelsize:
27.5" Front and Rear.
Q & A
Favourite place to ride?
British Columbia.

How did you get into riding?
My dad introduced me to mtb when I was a kid.

Favourite trail of all time?
Mmm if I'm in whistler bike park I would say Freight Train to Dirt Merchant to something more tech at the bottom.

Favourite rider to watch?
Right now Brage Vestavik. But it's really hard to choose just one.

Favourite food / colour / movie?
Argentinian barbecue / Purple

What are you into outside of bikes?
I love cooking, skiing, dirt biking, camping with friends.

Scariest riding moment of all time?
First section of my line at Formation 2022.

Favourite OneUp product and why?
Pedals because my feet stay on the pedals all the time but I also love the handlebars.

If you're put on the spot and have to tell a story, what is the story you tell?
Probably some memory from travelling around the world with no money but good friends.

Favourite trick, to do or to see done?
I love to see a steezy 360 but I don't know how to do it yet haha.

Who would you be if you could be any non-mountain bike athlete?
Probably I want to be a sick skiing freerider.

Air or coil shock?
I prefer coil shocks.